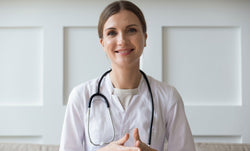 Dermalist
Online Skin Clinic Session
When you book into Dermalist's Online Skin Clinic you will attend a video appointment with one of our qualified Dermal Therapists via Zoom or Facetime.

During your holistic 20-minute consultation, they will:

Conduct a visual assessment & diagnosis of your skin

Review your current skincare routine & products

Discuss your diet & lifestyle factors

Create a personalised skin health plan tailored to you

Recommend products & treatments to optimise your skin
Customer Reviews
I recommend this product
WEALTH OF KNOWLEDGE!
I learnt so much information from my online consultation! Romy listened to all my concerns and was able to provide me with strategies and recommended some Dermalist products which were amazing. I would highly recommend the online consultation service as the fee can be redeemed when purchasing any of the products!